Downtown Orlando Restaurants
Downtown Orlando Restaurants offer the widest choice of dining for visitors on the streets surrounding beautiful Lake Eola Park and Church Street Station entertainment complex. All our luxury villa rentals are less than 30 minutes from this delightful hub which has quiet streets lined with historic homes in the shadow of the high-rise Business District. You;ll be spoiled for choice with so many restaurants and bars with tables spilling out onto the sidewalk, so let us help guide you to some of the best restaurants in Downtown Orlando.
Elize Gastro Pub, 55 West Church St
Gastro pubs are common in Europe, but here in Orlando they are a rarity. Owner Michelle came over from the Netherlands, started her own Gastro pub and named it  Elize, in honor of her mother's flavorsome cuisine and warm hospitality. This laid-back eatery lives by the motto "Simplicity is already complex enough" and the menu by chef Reanna McNamara offers tasty uncomplicated home cooking with straightforward ingredients fresh from Central Florida farmers. Open for lunch 11-3pm and dinner 5-10pm, this contemporary restaurant makes a refreshing change from American fare.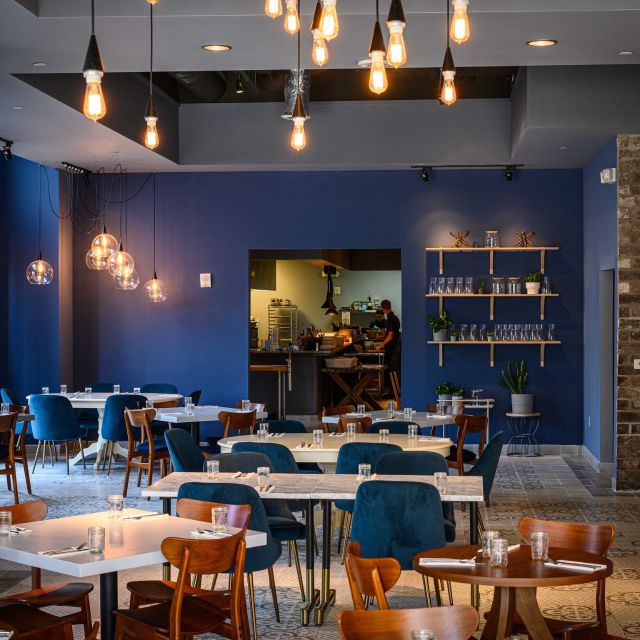 Kres Chophouse, 17 W. Church Street
A little more pricey, but a great choice for a celebration or last night of your vacation, Kres Chophouse is a classic top-tier Steakhouse which will make you wonder why you never tasted steaks quite like this before. Chic and elegant in style, the restaurant is decorated with original artworks and has a full bar of wines and spirits. House aged, handcut prime steaks and seafood are complemented by an array or side dishes. Make use of the valet parking (after 6pm) or use the parking garage opposite. Get there for Happy Hour to enjoy half-price appetizers at this Diners Choice Award restaurant.
Amura, 54 W. Church Street
Fancy some tasty sushi or Japanese cuisine? Then Amura is the place to head for. This Zagat rated restaurant was named one of the Best Sushi Restaurants in the World which says it all. Fresh, healthy and delicious dishes are created by talented chefs who prepare the freshest seafood, salads and appetizers. Share a King;s Assorted Platter to start with crispy calamari, shrimp cocktails, wraps and egg rolls or nibble edamame with a chilled chardonnay from the extensive drinks list. Entrees extend from teriyaki and pork ossobuco to sushi and sashimi combos.
310 Lakeside, 301 E. Pine Street
Enjoy New American cuisine at 301 Lakeside which has some shady outdoor tables overlooking lovely Lake Eola in the heart of downtown Orlando.
Served daily, Brunch is a particular favorite with egg scrambles, omelets, muffins, benedicts and sides for around $12. Lunch and dinner menus have all the usual staples from crab cakes and salads to burgers, pasta and fish. End of a traditional Florida note with Key Lime Pie. There's also a Late Night Menu of tasty snacks from 11pm to 1am. There's onstreet parking for a fee nearby or use the parking garage opposite and get your ticket validated by 310 Lakeside for free parking.