Where to Find the Best Beaches near Orlando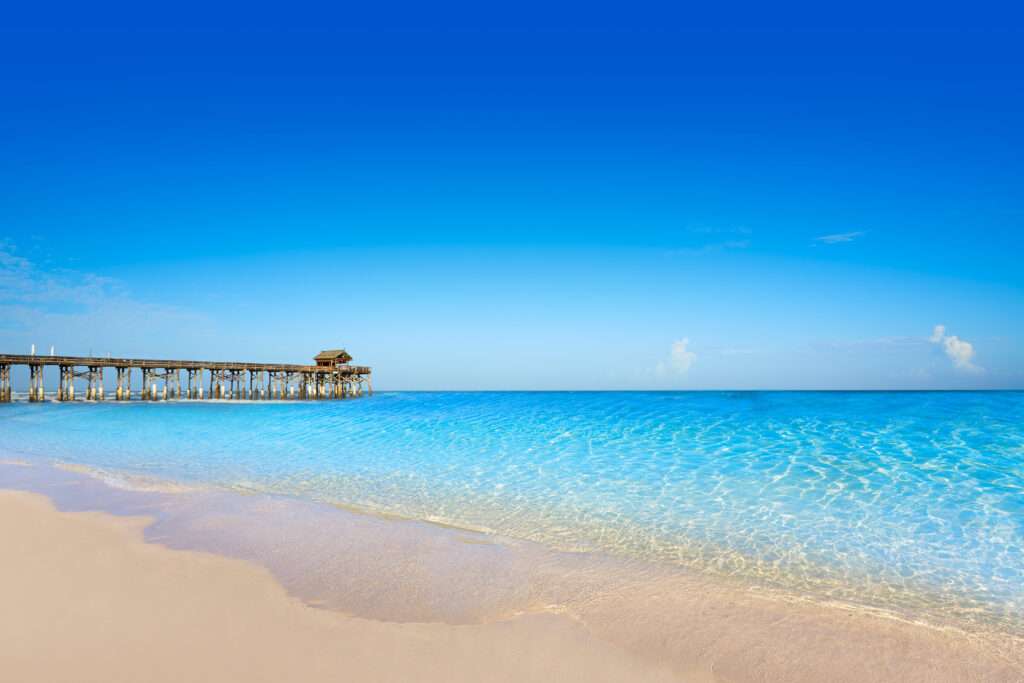 If you fancy a change from shopping and theme parks, an hour's drive from some of Orlando, Florida's best beaches. The top three most beautiful beaches closest to Kissimmee are Cocoa Beach, Daytona Beach and Clearwater Beach. 
Whether you're looking for powder-soft white sand and warm Gulf waters or some amazing Atlantic surf, you'll find an amazing beach that will exceed your expectations. All three beaches have their own particular highlights, so read on to find the best beach for you to visit from your vacation villa in Orlando. 
Cocoa Beach
Known as "Orlando's local beach", Cocoa Beach is a beautiful white sandy beach on Florida's Atlantic east coast. As well as watching the surfers, you will see cruise ships heading into and out of Port Canaveral and the chance to view rocket launches from the nearby Kennedy Space Center.
There are four main parks with beach access, picnic tables, restrooms and shower or you can park in one of the cul-de-sacs that have metered parking spaces and a boardwalk over the dunes. The beautiful clean sand stretches for miles and is relatively flat. Waves vary depending on the wind and tide. There is plenty of opportunity for surfing, swimming and relaxing on the sand. Food and amenities can be found at bars and restaurants on Cocoa Beach Pier or in the nearby town. Chair rentals, umbrellas, surfboards etc. are available from First Street North Beach Rentals. 
The big attraction at Cocoa Beach is the multi-storey World-Famous Ron Jon's Surf Shop on N. Atlantic Ave. It has everything from beach clothing and gifts to watersports and surf gear, to rent or buy. Other attractions include the pier and the East Coast Surfing Hall of Fame.
Getting there:
Cocoa Beach is 65 miles east of Orlando and is very easy to reach along Hwy 528 (Beachline) which is a toll road. Once you cross the Intracoastal Waterway and hit the coast, turn right and head down the A1A just south of Cape Canaveral/Kennedy Space Center to reach this stunning beach. 
Clearwater Beach
Frequently named the #1 beach in Florida, Clearwater Beach is on Florida's west coast near Tampa. It has dazzling white sands that run for miles, lapped by gentle waves from the warm Gulf of Mexico. There are several places to park close to the beach on Poinsettia, Mandalay and Rockaway St. Prices are around $2 per hour.
This beautiful beach has plenty of lounge chairs and umbrella rentals and there are often dolphins playing just offshore. The busiest areas are around Pier 60 and on South Beach, especially in the evening with street performers, live music and stalls selling local crafts. 
Further north, the beach is less crowded. Wherever you choose to spend the day, there are plenty of cafés, bars and local restaurants nearby. There's a boardwalk next to the park along with boat trips, fishing, watersports, jet skis, miniature golf and even helicopter rides available. Nearby attractions include Clearwater Marine Aquarium, home of Winter the bottle-nose dolphin.   
Getting there:
Clearwater Beach is 97 miles southwest of Kissimmee via the I-4 West to Tampa. Hop across Tampa Bay on Hwy 60 to reach the popular resort of Clearwater Beach. 
Daytona Beach
Daytona Beach is a popular resort on Florida's Atlantic Coast, especially with families and students at Spring Break. Known as the "Fun Coast" it has firm sands for walking and chilling out and is usually pleasantly breezy. One of the unusual things about Daytona Beach (and neighboring New Smyrna Beach) is that you can drive onto the 23-mile-long sandy beach and park for just $20 per vehicle. It makes it really easy to bring coolers, beach toys and lounge chairs without having to carry them from the car park.
There is some street parking (free) and several beachfront parking lots with meters on N. Atlantic Ave (A1A). The Oceanfront Park has parking, a Splash Pad for youngsters and restrooms. Enjoy the beachfront attractions at Joyland Amusement Center and escape the heat for a while at the Ocean Walk Shops. The pier stretches over 1000 feet into the ocean and is popular for fishing (no fee or license required). It also has several bars, crab shacks and restaurants for dining with panoramic ocean views..
Daytona's rolling surf is very popular for surfing, body-boarding and kite-surfing. Other nearby activities include Screamer's Park with a 365-foot high slingshot and the famous Daytona International Speedway. It's the home of Nascar racing and offers fascinating behind-the-scenes tours when races are not scheduled.
Getting there:
Daytona Beach is 78 miles northeast of Orlando and takes about 90 minutes to get there from Kissimmee along I-4 East. New Smyrna Beach is quieter and a little closer but takes just as long to get to.