Solara Resort is one of Orlando's newest vacation home resort communities in Kissimmee. Behind the secure gated entrance you'll find fabulous luxury homes boasting 4 to 9 bedrooms. What's more, each villa has its own private swimming pool in a mesh screen enclosure. It's the perfect vacation accommodation for families, groups of friends and couples sharing the cost and amenities of these outstanding vacation rentals in Orlando.
---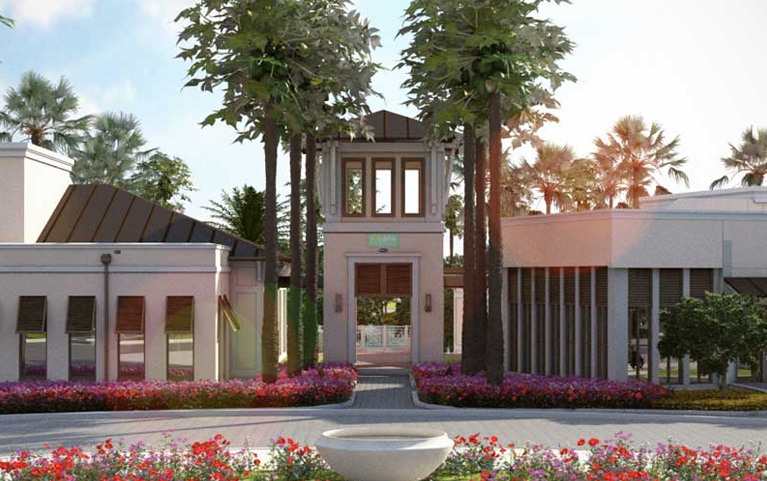 What to expect at Solara Resort
Solara Resort homes are arranged on an 18-acre complex with a grand clubhouse as the epic centerpiece. Forget Wet n'n Wild – Solara Resort has its own water park with a grand pool for all guests to enjoy as part of their stay. If you fancy surfing without having to drive to the coast, try the Flowrider Surf Simulator. It's a great way to practice your balance on a full-size surfboard – and you can do it over and over again! Youngsters can cool off in the Splash Pad, a zone of fountains, jets and sprays that will keep them happily amused for hours. Interactive waterslides complete the fun facilities that Solara Resort has to offer.
When you need to catch your breath, head to the poolside bar or order a Solara sundae from the ice cream parlor with all your favorite toppings. After all, you're on vacation! When it comes to dining, the Solara Grill has a tempting menu of snacks and meals.
But that's not all that your vacation rental at Solara Resort has to offer. There's a state-of-the-art fitness center, basketball and volleyball courts for team fun and there's even a full-size soccer field for kicking a ball around. The air-conditioned Clubhouse has lounge areas and work stations with Wi-Fi so you can keep in touch with family and friends. They'll be green with envy when you send photos of your amazing luxury villa in the sun.
---
Solara Resort Homes and Villas
For the same price per night as a mid-range hotel, you could be staying in a beautifully designed luxury villa in Orlando just 8 miles from Walt Disney World, the amazing wildlife at Animal Kingdom and the international pavilions and experiences at Epcot. Universal Studios and SeaWorld are a short drive away along the I-4. For shopping and a choice of casual dining, look no further than Celebration, a planned community nearby which hosts many events around a scenic lake.
Golfers can take their pick from Orange Lake Golf just a mile away, or book tee times at the signature golf courses at Championsgate.
Florida Premier Rentals has the best selection of luxury holiday villas at Solara Resort with features that will blow your socks off! Themed bedrooms make every vacation special for young visitors. Spacious bedrooms with TV, playstations, games rooms and barbecues are included in some Solara homes along with gourmet kitchens and beautifully appointed sitting areas. Having your own private pool allows you to take a dip whenever you like – before breakfast, after a day at the theme parks, or perhaps after dark, chilling out beneath a starry sky. It's magic!
---